The Birthday Your Child Remembers Forever - Guaranteed!
Creating Happy Kids
One Party at a Time!
My name is Doug Hoover and for over 20 years I've dedicated my time and talents to making life easier for Moms and Dads all across Southern California.
So how do I do this?
By blending comedy, magic, puppetry, juggling, music, and balloon animals into a totally unique, one-of-a-kind, party fun extravaganza your child, your family, and your entire neighborhood will NEVER forget!
"I just wanted to thank you so much for coming back again and giving Christina such a magical and memorable birthday! Not only did the kids enjoy your show again, but the adults thought you were fabulous as well. I know both my girls are already planning to have you back for their birthdays next year!"

Happy Kids At Doug's Show:

.See Harvey Stealing Hattie's Flower!
You'll love it and I guarantee it! Your child will love it too! As a matter of fact...

If you're not completely satisfied
YOU GET YOUR MONEY BACK!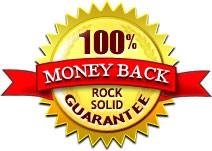 It's tough being a parent these days. So much to do and so little time. School. Sports. Friends. And as you rush around, you realize just how fast your kids grow up. Every moment is precious. Especially those special occasions like birthdays.
And now another year has passed. So how will you celebrate your child's special day this year?
Maybe you're thinking about hiring some entertainment...
So How Do You Choose an Entertainer?
Sure, you'll find a lot of entertainers out there. But how do you know which to choose? How can you be sure they know how to provide age-appropriate solutions to your family's needs? And how can you feel certain you'll get the best possible value for your investment?
The answer: Hire a Kid-Show Specialist.
For kid's parties and family events, you want entertainment that's visual, easy to understand, and (of course) extremely funny. You don't want someone who just recycles old "jokes" the kids won't understand. Children love situational comedy, where crazy stuff happens and everyone enjoys the fun.
You want someone whose spent years working on and perfecting their programs – preferably someone's who's performed thousands of times in front of live audiences. You don't want a part-time entertainer, you want someone whose good enough to work as a FULL-TIME Kid Show Professional!
"We've had entertainment of all kind at our daughter's parties but you were by far the best! The children enjoyed it all as well as the adults!"
Debra Young, Pasadena, CA

Only by hiring an experienced professional who specializes in children's entertainment can you be certain you'll get the quality and value your family deserves.
One Of The Most Requested Parts Of The Show!

.
.
.


For Just A Little More Your Birthday Child Can Float In The Air!
The Magic of Making Your Child Feel Special!
All my party package solutions provide a guaranteed, laughter-packed 30 to 90 minutes of magic, comedy, puppets, and fun! There's no experimental material in my show – it's all tried and true A+ material.
And the star of the show? Is YOUR CHILD! All throughout the show, magic will continually happen in their hands which of course makes your child feel VERY special!
Plus there's tons of HILARIOUS Audience Participation! Every kid gets to help out in some way, which is important because, as you know, kids don't want to just sit and watch – they want to get into the act, don't they?
"You have performed your magic show for three of my grandchildren's parties. We have been impressed each and every time! Not only do you keep the children involved in your magic show the adults as well are quite impressed. We seem to have as many parents as children watching! Each time we've seen your magic you add something new so that each performance has been different. We look forward to your next bit of magic and thank you for being our family's special magician!"
Lee and Joyce Watt - Santa Clarita, California


.
Girls Love Candy Canes Too!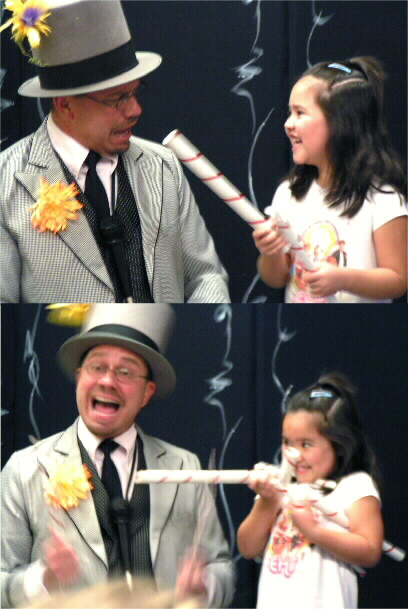 And of course, every show by Doug Hoover includes some guaranteed WOW moments:
· A birthday cake disappears but the kids think they have caught the magician and know where it went! Everyone's jaws drop when they find out where it really is!
· Harvey is the bird who thinks he knows some tricks! Kids ask to see Harvey again and again. Even older kids get a kick out of him and laugh riotously! Everyone falls in love with Harvey. I guarantee your entire family will scream and laugh their heads off at Harvey's antics!
· For the grand finale, everyone's favorite comedy is Doug's head twisting round and round. From big kids to little ones, it is the ending that will have EVERYONE rolling on the floor in hysterics - your walls will Rock with Laughter - guaranteed!
Every movement, every moment has been precisely planned and packed with action, magic, music, and laughter for your entire family! Imagine how much fun you'll have watching every face in your home howling with laughter!
"Great performance! All the parents felt you were age appropriate for the kids as opposed to other performers they had seen at other parties. Thanks so much"!
Karen Lake, Lancaster, CA

.
Head Twisting Is One Of The Funniest Parts
Of The Show!

And as an Added Bonus:
Special Prize for EVERYONE!
Regardless of which party package you choose, every child at the event will get a special magic surprise like The Dancing Fish or Appearing Birthday Candle trick, that they can take home. Unlike other entertainers who just hand out business cards, I make sure every kid gets to be a magician too!

The Dancing Fish amazes all ages, they love to show it off and it is only available at Doug's parties!

And with the Ultimate Party Package, you'll receive the following:
· Magic goodie bags, packed with magic, toys and surprises! No candy or filler. The best part is that Doug shows off the tricks and then teaches the children how to do them! The kids love it and this saves you the hassle of finding all the pieces and putting them together yourself.
· Balloon Animals appear almost magically in a variety of shapes and colors as a special prize for every child there!
· Walk around close-up magic for both adults and kids. This is the same eye-popping magic experienced at Hollywood's famous Magic Castle!
And then, after the big, "Rock Your Walls With Laughter" finish, the Birthday Child will receive their very own 11x17:
· Hattie And Harvey Color Poster, which all of your child's party guests get to sign. This is a treasured souvenir of their party!

(Imagine how thrilled your child will be when they see this poster and all their friends sign it, how cool is that?!)
I guarantee, every kid in the neighborhood will give a big THANK YOU!!! for throwing such a GREAT party!
"The opening surprises got everyone's attention in a big way and grabbed them from the beginning. The show was definitely a hit. Excellent show!"
Debbie Bonnie
It Sounds Fantastic! But Can I Afford This?
I offer several different party package solutions, ranging from $225 to $400 – making sure there's a package friendly to every family's needs. And if one of my standard packages doesn't fit just right, we can craft a solution personalized for your party! Finally, to make it even easier for you, I accept cash, checks and credit cards. (Credit Cards through PayPal.)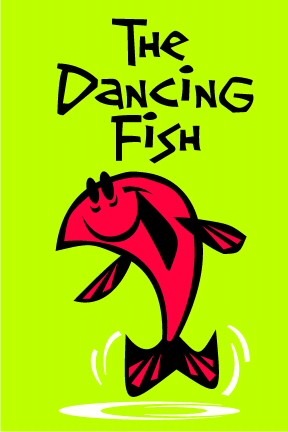 .
.

.
.
.
A Poster Signed By Kids At One Of The Shows!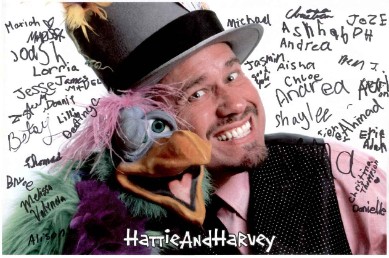 Wow! How Can I Find Out More!?
Fill out the form to the right and learn how easy it is to throw a party that will create wonderful memories to last a lifetime.

Together let's make your child's next event totally amazing, fun, and unforgettable!
Sincerely,

***

"The Academy of Magical Arts and the Magic Castle THANK YOU so very much for your time, energy and talent. We appreciate that you were so generous in giving of yourself at this year's KID'S DAY!"
Lesley Manning, Kid's Day Coordinator, Magic Castle
P.S., As you might imagine, weekends are extremely busy and fill up fast. I do several dozen events every month, and as one of the busiest kid show pros in the Southern California, my calendar can fill up weeks in advance. So I urge you to email me or call NOW!

661.513.4113 – why risk being disappointed?
P.P.S., If you're checking around for entertainment, make sure you ask these questions:
· Do they specialize in children's entertainment? Or do they instead try to perform "for all occasions"? (Just look at their ad or website. You'll see what I mean.)
· Can they describe their shows in detail, or does it sound like they simply just "wing" each show?
· How much experience do they have and what are their professional credentials?
· Last and most importantly, can they give you the same 100% MONEY- BACK GUARANTEE of total customer satisfaction!?
.
.
Doug's Favorite Letter!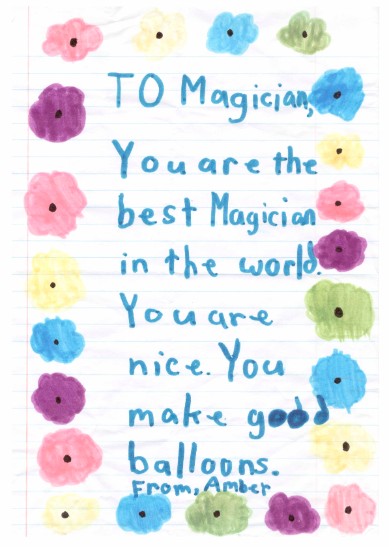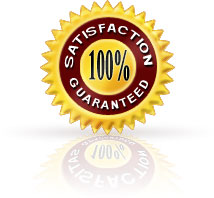 Bonus Video - Longer Clip:
Even little kids love the Head Twister!