Creating Happy
Kids By Magic!
Doug Hoover is the magician known to kids all over as "Hattie!" Kids laugh and are amazed at Hattie and Harvey's zany fun and comedy. Hattie is the comedy kid's magician for birthday parties in Southern California!

You are guaranteed that everyone will enjoy the best time ever when Doug performs! He has been a full time entertainer for over twenty years - your child will be laughing, giggling, clowning around and remembering the happiest party ever because Doug's best magic is turning mere tricks into entertainment!

"I don't tell people you are a magician. I tell them you are an entertainer!" Cindy Brody, Lancaster, CA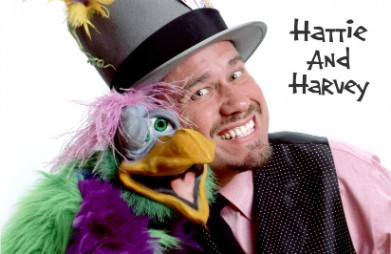 "I just want to thank you so much for chatting with me and being so responsive in you emails. This is one less thing I have to worry about! :)" Aracelly Walden, Pasadena, CA

Doug is a Proud Member of Kidabra!
The Association of Family & Kid Show Performers


Watch This Video And See The Fun This Kids Are Having!
What One Mom Says About Her Son Having A Great Time:

Fill out this form now for more information:

"Thank you for a great birthday party! My daughter and her friends truly enjoyed the show and were still talking about it at school on Monday. Great job! I would definitely recommend you to my friends!" Dianna Jason, Glendale, California
Kid's Magician, Clown and Entertainer!

Serving These Areas in Los Angeles County in Southern California:
Magician for Pasadena CA
Magician for Lancaster CA


Santa Clarita, Valencia, Stevenson Ranch, Newhall, Castaic, Canyon Country, Saugus, CA
Serving:
Simi Valley, Ventura, Oxnard, Santa Paula, Fillmore, Ojai, California
Serving:
Simi Valley, CA